Smokey Quartz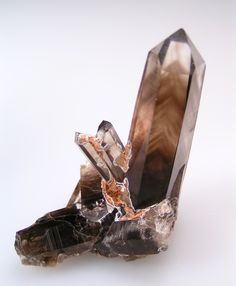 Smokey Quartz is a gentle but soothing stone. Its energies are highly protective and very much centered in thought patterns of thoughts.
It can assist with memory and the knowledge from the subconscious.
It is a good stone to have in meetings or in conferences beside you in the office environment as it helps people feel more conscientiously at ease within the mind and the surroundings. It does and can promote harmony within a group too as well as uniting the peacefulness from within oneself.
It can also transmute negative thought patterns to positive thought patterns and is an excellent stone for shifting perceptions with.
Smokey Quartz also assists in providing a strong connection to Gaia and Mother Earth, predominantly bringing grounding energies through the stone's awareness field to the wielder and friend of the stone.
Smokey Quartz is a stone of space and stamina as well as endurance. Where there is a will, there is a way. You just need to find and muster the courage within oneself to take the journey in the opportune moment.